Mar 8, 2022 02:22 PM Central
Erica Hoke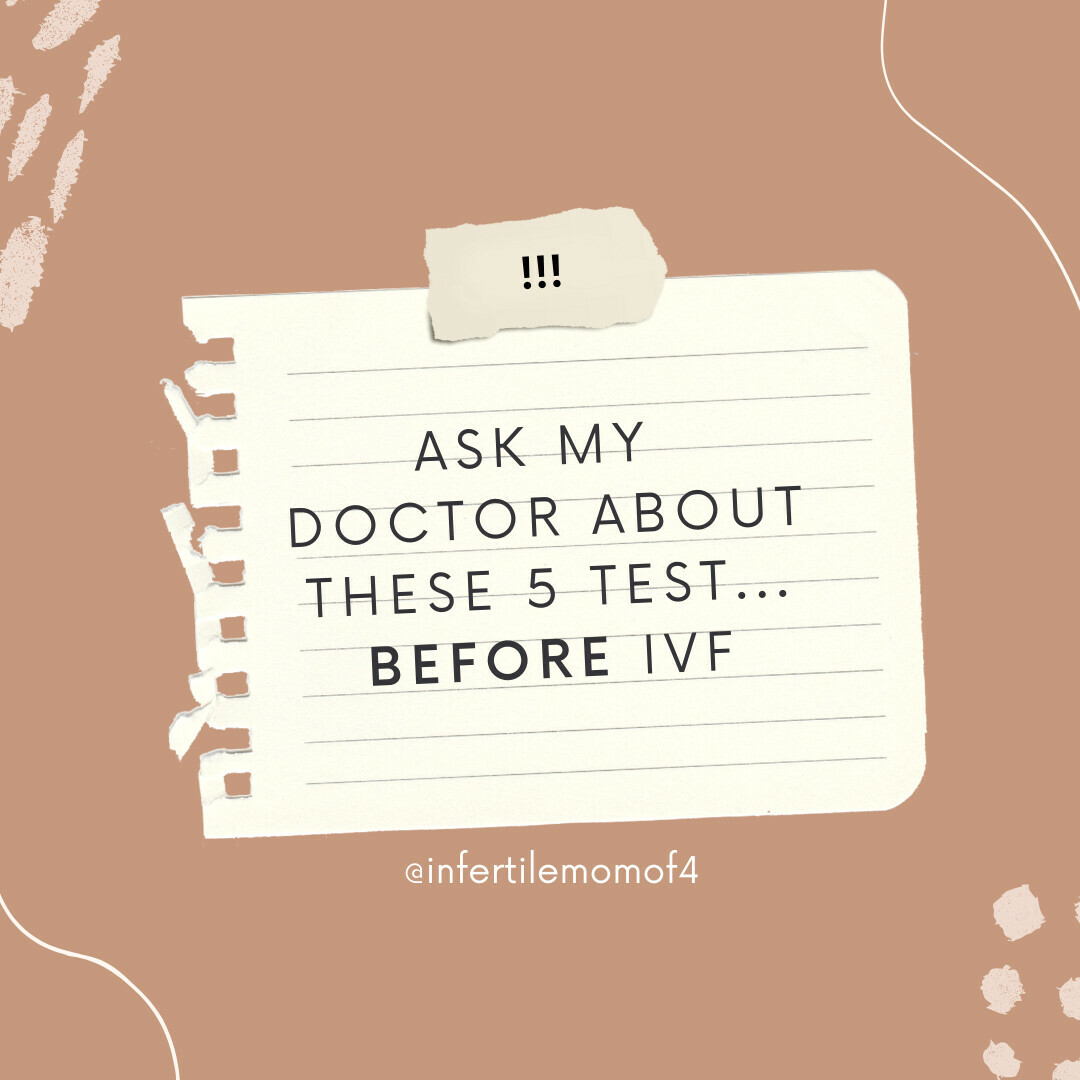 Don't ASSUME these tests are done/ going to be done before your treatment. In SO many cases these tests are only done AFTER a failed procedure...which means heartbreak, time and money for you.
Speak up for yourself and get the BEST care you deserve.
(trigger warning loss)
Imagine having painful UTI symptoms for 2 years. Aside from the discomfort you have been bounced around from specialist to specialist only to be told in the end your pain is in your head…Until finally, finally! Someone listens to you. Not only does your new REI listen to you they validate that a test should have been done before you had 9 failed medicated cycles, 5 failed IUI's and 3 miscarriages, all that potentially could have been prevented. You and your husband are each given a $10 antibiotic and the next cycle you're pregnant with your second child. Fourteen months after that, with no medical intervention you're pregnant with your third child. This test is
urea plasma
which sometimes the only symptom is infertility.
Imagine today is the day! Your embryos have been frozen and you are expecting a call from the clinic with the results. Except they never call you …and when you call they let you know both of your last two eggs have perished. You're devastated and angry. Then the anger deepens when they then suggest a simple blood test. Six IUI's and two IVF procedures and NOW they're recommending a simple blood test that you assumed was done with the initial labs. Your husbands results are abnormal. Some, if not ALL of this could have been prevented. With on genetic test for balance translocation.
You are pregnant with twins! You're shocked, but so excited and happy! One morning at 13 weeks you wake up and feel off. You go to the bathroom and realize you're bleeding. You're miscarrying your twins. It happens, they say. Time passes and eventually the pain eases. You and your husband decide to try again. One day you get the positive test you've been hoping for. At your first appointment they let you know your hCG levels are high. High enough to be twins …again. You're terrified, excited and worried. Twins again, what are the odds? You pass the 13 week mark and then the 18 week mark you begin to relax. At 23 weeks you start bleeding again. You are admitted to the hospital to stop the bleeding and contractions but they can't. You lose both babies at 23 weeks. While you're still in the hospital the doctors run some genetic screening tests and discover you have factor 5 leiden. A common blood clotting disorder. The babies could have been saved if you were on blood thinners, they say. Next time we'll put you on blood thinners at the start of the pregnancy. But you are broken, and know there won't be a next time.
Aside from balanced translocation disorder the other four tests are considered somewhat controversial which means that you as the paying patient may have to advocate for yourself to get the tests ordered. There is no clear answer as to why every REI doesn't test for them. Each set their own protocol and some will tell you it's unnecessary and sometimes invasive to perform these additional tests.
The fourth test I recommend having done prior to your first IVF is an extended thyroid panel (even if you're in the "normal" range) which includes not only TSH, TPO antibodies, Thyroglobulin antibodies, free t4, free t3, and ferritin. This will give you a better picture of your overall thyroid health. I also recommend to all my clients to find a previous thyroid level test to compare what their "normal" is to where they currently are. Ferritin stores are very important to pregnancy and are not part of routine testing.
The final test to protect your IVF investment is a blood test for natural killer cells. If the blood test comes back positive your doctor may perform a uterine biopsy.
These real life stories (some taken from Infertility Success, Stories of Help and Hope) might have turned out differently with testing for these conditions at the beginning of the infertility journey or after miscarriage loss. So many women assume (just like these women did) that their doctor/REI will test them for absolutely everything. However, as you can see from these stories, it's simply NOT the case. Remember, just because a doctor tells you that they can't help you doesn't mean you can't get pregnant