Oct 18, 2021 12:04 PM Central
Erica Hoke
Erica, "what can I do to help my IVF work?" As an infertility mentor this is one of the most asked question. For anyone on the infertility journey IVF is usually not the first or second on the journey. By the time couples get to the place of agreeing to IVF there has already been a huge investment of emotional turmoil, time and money. The money. Oh, so much money for the chance to become parents. You wouldn't go into any other transaction that costs as much without first safeguarding that you are in alignment to ensure the success of the outcome.
The reproductive system is so intricate that to even move the needle by millimeters could change the outcome. Here are my best tips to put into practice when you're preparing for your IVF or IUI procedure. For more information and support like this join us over at Infertility Empowered.
1)Acupuncture- This eastern medicine modality has been utilized for millennia to prepare a woman's body for conception. Today well-rounded REI clinics are offering this in house to help with relaxation and implantation either before or after the procedures. If your REI doesn't offer this, speak to them about bringing your own practitioner or make an appointment that coincides with your treatment. There are tons of studies both clinical and anecdotal that support acupuncture as extremely complimentary for reproductive medicine.
2)Gentle movement- This will help originate your blood and provide much needed stress release. Swap out higher impact activities for ones that are lower impact but still increase heart rate. Research behind high impact activity is very divided with no clear answer as to whether or not this affects implantation. Traditional Chinese medicine defers to low impact activity during ovulation and the two -week wait.
3)Support your Liver/Gut- Both of these organs support your hormones so do all that you can to be gentle with them and make their job easier. Eat easily digested meals, drink plenty of water and avoid inflammatory foods like dairy. Your liver plays a very important role in your hormone balance so avoid alcohol during ovulation and the two-week wait.
4)Sleep- Sleep is important to restore your body. Remember the goal here is to grow a human. Make sure you get plenty of rest so your blood sugar/and cortisol levels remain stable as these are both big players in reproduction.
5)Supplements- Of course you know when you get pregnant that you will be taking a pre-natal vitamin to support your growing baby, but there is plenty of research to support taking one pre-conception can help you conceive also. Make sure the vitamins you are taking are whole food (meaning not synthetic) as synthetic vitamins can tax your liver and create toxicity. Confused as to what to take? And why? Get on the list for my workshop
Decoding Supplements.
Aug 21, 2021 03:00 PM Central
Erica Hoke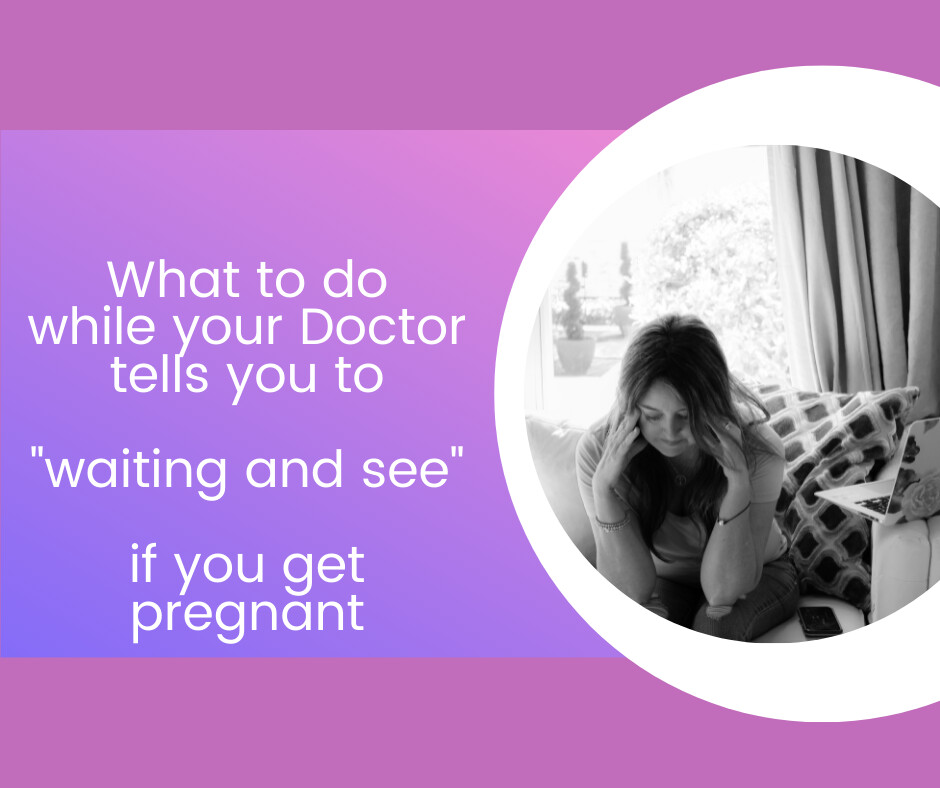 You sit quietly in the cold office, the paper gown sticks to your legs as you anxiously waiting for the doctor to walk in so that you can ask them the millions of questions that have been plaguing you. You have put off this appointment, not wanting to ask these questions, but now you're here and your prepared to hear what the doctor has to say.

In walks the doctor, and out of your mouth tumbles all the questions about why you're having so much period pain and most of all why you haven't gotten pregnant yet. Instead of addressing the questions the doctor returns yours with one of his own; "how long have you been trying" You stammer that you haven't been "trying long" but you have done nothing to prevent pregnancy either. "What about the pain" you say? "All we can do is exploratory surgery or birth control" is the response. Alarmed, and not wanting surgery you drop the subject and move on with the process of the annual exam. As you wrap up your visit your doctor says "keep trying and if you're not pregnant in 6-12 months we'll talk about our options." Unsure what else to do you leave and go cry quietly in your car.

So many women face this scenario every day, and I'm here to tell you it's NOT okay. While we can't completely change the system (yet) we can make some proactive choices. Here are some recommendations to keep you moving forward so should your waiting period end with no pregnancy in sight you are proactively moving forward.

1)Track your cycle days and also changes in your cervical mucus. There are journals and apps to help with this.

2)Confirm your ovulating with ovulation tracking

3)Become curious about your symptoms, how you feel and how you're sleeping. These can all be clues to what could be going wrong with your fertility/ health

4)Get a copy of your bloodwork and review it for levels that appear to be out of range. If you need to, compare several different results to see how the results have changed over time. ASK your doctor for clarification on these tests.

5)Take the same kind of supplements you would if you were already pregnant. Make sure your taking high quality, food-based supplements so that they're absorbable and not creating toxicity in your body.

6)Period pain, especially debilitating pain should NOT be ignored. Don't allow fear to prevent you from obtaining a proper diagnosis. Pain that includes excessive bleeding, and keeps you from doing normal daily activities is not normal.


It's worth mentioning that on average it takes 10 years to obtain an endometriosis diagnosis. Some other things that can cause unmanageable pain or menstrual flow include; uterine fibroids, PCOS/ovarian cysts, as well as adhesions of the reproductive organs to the bladder or other adjacent tissue. Often women are told that there is nothing that can be done about the symptoms caused by these problems, or worse it's all in their head.

I hope you've come to the same conclusion I did that in order to get the pregnancy you desire you're going to have to become a strong advocate for your own health and take responsibility for knowing your lab results and body. If you need support in this area join us over here at Infertility Empowered where we discuss all things infertility related and how to get answers quicker and with better outcomes.
Apr 24, 2021 04:37 PM Central
Erica Hoke
If you're reading this I'm sure I don't have to tell you how hopeless it feels to be told that you have "unexplained" infertility. It feels like the death of a dream or a death sentence. You want to crawl in a hole and never come out. Some women do.
If you're reading this, I'm guessing that's not you. You're like me. You're going to dig until you DO find the answer.
After I got over the shock of our reproductive endocrinologist saying that they couldn't help us, I decided NOT to accept that this diagnosis would stop us from creating a family. I got to work researching. I got a copy of my bloodwork and reviewed it. I made an appointment for another more aggressive surgery. I started asking around to friends about a possible second opinion. I started fertility acupuncture (which no matter how expensive is still waaaay cheaper than IVF). I took control over my own body and health (which included mental health).

In the United States if you've been diagnosed with unexplained infertility you have already lost between six months a year (depending on your age) in other countries it can be longer. I know that I don't have to tell you that's precious time that you'll never recover.

What I wish I had fully understood is that delay is your enemy. Waiting is your enemy. Overthinking is your enemy. Allowing yourself to be taken hostage to a medical agenda is your enemy. Taking more action swifter could have allowed us to have another child. Your doctor has already told you that they can't help you. Believe them. But please realize that just because they can't help you doesn't mean that you can't be helped. I know you're afraid that the surgery they're suggesting will make it impossible to conceive. But they've already told you they believe it's impossible to conceive. I know that you're afraid of scar tissue and the pain of surgery. But, what are your options? Before you jump up to raise your hand for IVF, consider -what if it wasn't an option? Because it wasn't for us.... We had an UEI diagnosis and were also told we could NOT do IVF.

So, what about surgery? After two exploratory hysteroscopies didn't reveal any sizeable fibroids, we decided to go ahead with the saline ultrasound surgery. This was to rule out the that fibroids were there that could not be seen any other way. The surgeon did in fact find, not just a couple of fibroids, but so many that it looked like he picked up a handful of aquarium gravel. I truly believe without this and other aggressive surgeries our children wouldn't be here.
The last thing that I wish I had known was to take better care of my mental health. Going through Infertility is hard on you personally and your marriage. I was already seeing a talk therapist for past trauma which was helpful but not fully healing in the way that I needed it to be. I didn't just need to heal, I needed tools to take with me into my parenthood journey. I wish I had known to address the physical ways that trauma scars you (like infertility) and addressed them sooner through neurofeedback, reiki or other forms of trauma release. I wish I had learned to prioritize my whole self as a woman, not just as a reproductive success story.

Regardless of your success in becoming a parent, I want you to know most of all that you are worthy of the life of your dreams with or without children. That you are worthy of taking time for yourself for no reason at all.
Most of all I want you to know that you are not your diagnosis.